Plastic Free Mersey marks one-year anniversary
Mayors Rotheram and Anderson join birthday celebrations
Environmental project Plastic Free Mersey has celebrated its one-year anniversary with an event featuring various activities at Veolia's Recycling Discovery Centre in Liverpool on 25 May.
The Plastic Free Mersey project is led by environmental charities Thames21 and Mersey Rivers Trust. It builds on Thames21's award-winning litter survey work, which has identified the most common plastic litter items on the Tidal Thames.
The anniversary celebration programme included endorsements from Liverpool City Region Mayor Steve Rotheram and Mayor of Liverpool Joanne Anderson, who attended the event.
The event aimed to raise awareness of the collaborative project amongst local residents and urged them to avoid littering at all costs and recycle plastics and other waste as much as possible.
Partners of the Plastic Free Mersey project and our volunteers attending the event took part in a litter pick on a nearby stretch of the River Alt and had a tour of the Materials Recovery Facility (recycling plant), which is operated by Veolia on behalf of Merseyside Recycling and Waste Authority.
Debbie Leach, CEO of Thames21 and John Sanders, Co-Director at Mersey Rivers Trust commented: "Mersey citizen scientists have made a huge impact through a year of positive actions by obtaining crucial data on the plastic pollution challenge.
"By working closely with our community partners, local authorities, environmental groups and the plastic supply chain, we ultimately aim to reduce leakage and littering of plastics into the environment.
"We will continue to work with our partners to tackle this type of waste and encourage everyone in the Mersey to take action."
The Plastic Free Mersey project team presented the preliminary volunteer survey results through a poster displayed at the event. Booklets were also distributed to invited volunteers and representatives from local authorities.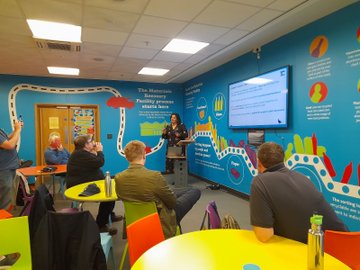 Since its start in April 2021, the Plastic Free Mersey project has trained more than 30 local residents as citizen science volunteers who have already categorised and removed more than 2,670 individual pieces of litter from rivers and streams. In 54 detailed surveys across more than a dozen rivers across the Mersey, overall counts showed that plastic food packages were the most abundant type of litter, followed by sanitary items, plastic bags, cigarette butts, and glass bottles.
The project team are collecting the volunteer citizen science plastics survey data and analysing it in collaboration with Professor Dave Morritt at Royal Holloway, University of London. Such systematic work will help us interpret our findings to inform waste management, policy, technical, and behavioural changes in the Mersey catchment and more widely.
Over the last twelve months, Thames21 and Mersey Rivers Trust have been working in collaboration with our main project funders LyondellBasell, one of the world's largest producers of plastics and chemicals, INOVYN, Europe's leading producer of vinyls. Peel NRE – Natural Resources and Energy, a company focused on clean growth and the circular economy, have recently joined our project as funding partner and we are getting other businesses involved.
The project also has the support of trade associations British Plastics Federation and Plastics Europe, RECOUP, a recycling-focused environmental charity, SUEZ, a global expert in the water and waste sectors. These businesses and organisations have sites in or near the River Mersey catchment. Plastic Free Mersey has been endorsed by the Liverpool City Region, Cheshire West and Chester Council, Warrington Borough Council, and the Merseyside Recycling and Waste Authority, which is key to engaging local communities and drive a positive change to the region's waterways.
ENDS
Notes for editors
About the Mersey Rivers Trust
The Mersey Rivers Trust is a charity working in partnership with all those interested in improving local rivers and waterways for people and wildlife. As a member of the national Rivers Trust movement, it is the Rivers Trust for the River Mersey and its catchment, covering Merseyside, Greater Manchester and much of Cheshire.
About Thames21
Thames21 connects people with rivers by putting healthy rivers back at the heart of everyday life. We improve and restore rivers, educate and empower the community and campaign for positive change for the good of people and the environment. More information at www.thames21.org.uk
About INOVYN
Part of INEOS, INOVYN is Europe's leading producer of vinyls and in the top three worldwide. With an annual turnover of €3.1 billion, INOVYN has circa 4,200 employees and manufacturing, sales and marketing operations in 8 countries across Europe. INOVYN's portfolio consists of an extensive range of class-leading products arranged across General Purpose Vinyls; Specialty Vinyls; Organic Chlorine Derivatives; Chlor Alkali; Sulphur Chemicals; Salt; and Electrochemical and Vinyls Technologies. INOVYN's annual commercial production volume is circa 10 million tonnes. INOVYN has 3 sites in the UK: Runcorn, Cheshire; Northwich, Cheshire; and Newton Aycliffe, County Durham. More information at www.inovyn.com
About LyondellBasell
As a leader in the global chemical industry, LyondellBasell strives every day to be the safest, best operated and most valued company in our industry. The company's products, materials and technologies are advancing sustainable solutions for food safety, access to clean water, healthcare and fuel efficiency in more than 100 international markets. LyondellBasell places high priority on diversity, equity and inclusion and is Advancing Good with an emphasis on our planet, the communities where we operate and our future workforce. The company takes great pride in its world-class technology and customer focus. LyondellBasell has stepped up its circularity and climate ambitions and actions to address the global challenges of plastic waste and decarbonization. In 2022, LyondellBasell was named as one of FORTUNE Magazine's "World's Most Admired Companies" for the fifth consecutive year. The company has two sites in the Mersey catchment: Warrington and Carrington.
For more information, please visit www.lyondellbasell.com or follow @LyondellBasell on LinkedIn.
About Peel NRE Natural Resources and Energy
Peel NRE, part of Peel L&P, is at the heart of the nation's activity around clean growth and the circular economy – helping the UK achieve net zero by 2050 and supporting regions in their actions to achieve climate emergency targets. We reuse, repurpose and re-energise natural resources to develop and maintain vital infrastructure across the UK and are experts in renewable energies, district heating, waste to value, water management, materials management and electric vehicle charging. Our Protos Cheshire energy and resource hub leads the way in low carbon energy and waste management with the deployment of innovative technologies including the UK's first plastic-to-hydrogen facility, a 50MW windfarm, a 26MW biomass plant, a 49MW energy from waste plant in construction and a plastic park blueprint to revolutionise plastic recycling nationwide. In Liverpool, our Mersey Heat energy service company (ESCO) is delivering a low carbon district heat network for up to 9,000 homes and 4million sq ft of commercial space at Peel L&P's Liverpool Waters development. More information at www.peellandp.co.uk/peelnre
About SUEZ Recycling and Recovery UK
SUEZ Recycling and Recovery UK was established in the UK in 1988 as part of the global SUEZ group. We manage the waste sites on behalf of the Greater Manchester Combined Authority (GMCA), managing 1.1 million tonnes of waste arising from nearly 2.3 million residents. We help to reduce the environmental impact of our customers' waste by recycling and extracting the value from it, putting Greater Manchester's waste to good use. Our company's diverse activities are guided by a vision to engineer a society where there is no more waste and our goal is to help create a circular economy in which nearly all waste materials are given a second life and reused, recycled or recovered for their energy content. Passion for the environment is a core value for us and we are proud to support efforts to keep our communities clean and tidy. Several waste sites which SUEZ manage are located near the River Mersey. More information at www.suez.com
About the British Plastics Federation
Established in 1933, the British Plastics Federation is the UK's leading trade association for the plastics industry, representing the entire supply chain, including raw material suppliers, manufacturers and recyclers. More information at www.bpf.co.uk
About Plastics Europe
Plastics Europe is the pan-European association of plastics manufacturers with offices across Europe. For over 100 years, science and innovation has been the DNA that cuts across our industry. With close to 100 members producing over 90% of all polymers across Europe, we are the catalyst for the industry with a responsibility to openly engage with stakeholders and deliver solutions which are safe, circular and sustainable. We are committed to implementing long-lasting positive change.
More information at www.plasticseurope.org/en
About RECOUP
RECOUP is a charity and leading authority providing expertise and guidance across the plastics recycling value chain. Built on a network of valued members, collaboration is central to RECOUP's activities. The organisation is committed to securing sustainable, circular and practical solutions for plastic resources both in the UK and worldwide.
More information at https://www.recoup.org/